[Continuing the Central America 2017 Project…Note: If you're just catching this post, you might want to go back to the first post in the series. Follow along as I show you precisely how I designed, planned, prepared for, and executed a Lean Volunteer volunteer abroad adventure. As a business professional, you can do it too!]
Last week, I came up with my Social Enterprise Ask Profile.   While it takes a bit of thinking, that is pretty easy to do, and doesn't take long. You're really just indulging your desires, and who doesn't like to do that?
In these next few posts, I dig into the heavy lifting of finding a small social enterprise to work for in the country I want to explore, in this case, Costa Rica. This means research, both online and in person, in order to find 1-3 small social enterprises that I could work for when I volunteer abroad as a Lean Volunteer.   Again, I expound upon most of the detail about this step and the others in the book: Step 2 – Find Your Partner Social Enterprise. (Please sign up here for a discounted copy when I release it!)
So let's get started. First source: social media! The easiest and quickest way to discover potential partners is to ask your online social network. Use your Social Enterprise Ask Profile to post a request on Facebook, LinkedIn, Twitter…or any place you have an online community.   Here's what I did this week.
Facebook Post on 1/10/2017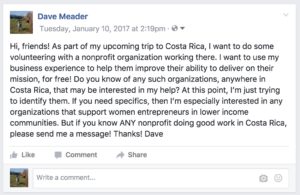 LinkedIn Post
Twitter tweet

I've used the hashtags #CostaRica, #volunteer, and #nonprofit to get the attention of people outside my network who are following those tags.
I also joined a few Costa Rica Facebook groups and posted there too.
After a week, here are the results I got. Given how social media feeds posts to networks, I'll probably still continue to get responses in the ensuing weeks.
Facebook Response:
Result: 7 friends reached out to 8 of their friends with my request.   Two of those contacted me directly with Costa Rica ideas because of that.
LinkedIn Response
Result: Not as much activity here, but I did get quality leads. One a URL and one an offer to make a really good introduction. Plus, a friend with Costa Rica nonprofit contacts sent me a private email asking what she could do.
Twitter Response
Result: Well, I did this mostly to show you how to do it. I only have 18 followers on my Twitter account so far, so I didn't expect much. I did get two likes! On the plus side, I did get 6 more followers, all connected to volunteer abroad organizations, because of my use of those hashtags, which is worthwhile.
Summary of the social media post.
From this one post in just 3 places, and just a week, I got several leads after some back and forth with the people that had ideas.
A friend of a friend who worked for the World Wildlife Fund in Costa Rica, who probably has some connections into wildlife conservation groups. Not exactly in my Ask Profile (I really want to consult with an organization that supports women entrepreneurs), but I don't know where this lead will take me so I will pursue it.
Proyecto Montezuma, "Proyecto Montezuma is a private nonprofit organization which provides English classes for local adult learners and Costa Rican elementary schools children that cannot afford to hire full-time English teachers". This could be right up my alley. Women entrepreneurs who can speak English well will probably have more success, and if this nonprofit teaches English to entrepreneurs, or future entrepreneurs, then this could be good.
Another friend of a friend who runs retreats in Costa Rica might have some ideas.   Shortly after my friend introduced us, he added me as a Facebook friend, which shows me he's interested in helping me.
Another friend contacted me via private email after seeing my post and offered her Costa Rica ideas
In my experience, this is a pretty good start.  Remember, this is just my normal Facebook and LinkedIn communities, which I haven't really created with Lean Volunteer work in mind.
Again, I don't know where my promotion on social media will take me. However, at the least I made my network aware that I was doing this and I have confidence that someone will know someone who will turn up some good candidates.
In Person Networks
Not everyone I know will read my social media posts, and really, I don't yet have a huge group of followers who might be interested, so I want to reach out to some of the people I know who work with nonprofits. If I'm lucky, some are from Costa Rica, know someone from Costa Rica, or are somehow connected to nonprofits in Costa Rica. I will also contact any friends I know who have been in the Peace Corps, since they have a pretty good network.
In going through my various contact books: email contacts, Facebook, LinkedIn, Contact book, and that magical contact book that exists only in my memory. I came up with 5 names that I suspect could point me in a good direction, and if they pan out, I can always go back to these lists for more.
For them, I repurposed my Facebook and LinkedIn post and sent an email directly to them.
Results:  No results to report just yet.
Next Post:   We start digging into the bewildering world of online databases to find that elusive partner organization!
---
For much more useful insight into how all this works, please sign up for a discounted copy of my book when I release it, The Lean Volunteer: Traveling The World While Doing Good With Your Business Expertise.
Photo Credit:
Globe Graphic:   https://pixabay.com/en/social-media-social-networks-ball-748101/